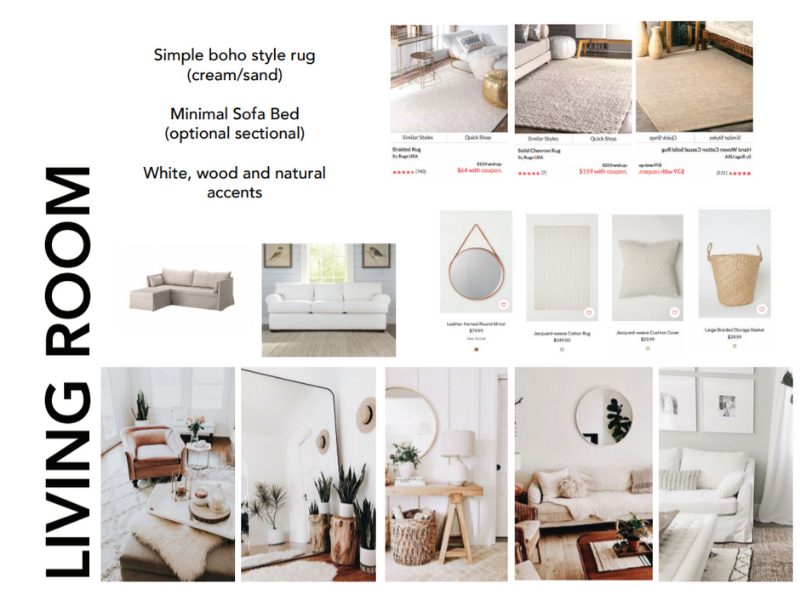 We believe that where you live impacts your overall well-being, health, and happiness. And home décor plays a huge part in this!
Yet far too often, we see renters not putting effort into the aesthetic of their space. Why?
"It's not my forever home."
"I might want to travel one day."
"I don't want to spend money on a rental."
…and the list goes on.
All valid reasons, for sure. But RIGHT NOW, you are calling this place home, so why not at least try to make it feel that way – even if it is just for a year or two? If 2020 has taught us anything, it is all we have is now and home is the most important place.
We encourage you to take the time to plan your home décor so it brings you joy and represents who you are – it'll be worth it when you have a home you love.
In this blog, we will walk you through how to decorate rooms so they work together by creating mood boards, resulting in a space that feels connected and intentional. While this is easiest to do right when you first move-in – when you are faced with four white walls and a blank slate – it can be done at any point during your tenancy and the benefits are just the same.
THE TOP 3 BENEFITS OF MAKING A MOOD BOARD FOR YOUR APARTMENT DECOR:
Eliminates the stress of decorating on a whim
Helps keep you on task – and on budget
Creates a home you are sure to love
So, let's get started, shall we?
CHOOSE YOUR COLOURS
We recommend choosing a neutral colour scheme like the one Arin made for her West Coast inspired Kitsilano rental apartment. This way, you can add pops of colour with mixed textiles or switch it up with the seasons. Pro Tip: It's much easier to change out a pink velvet throw pillow than a pink velvet sofa!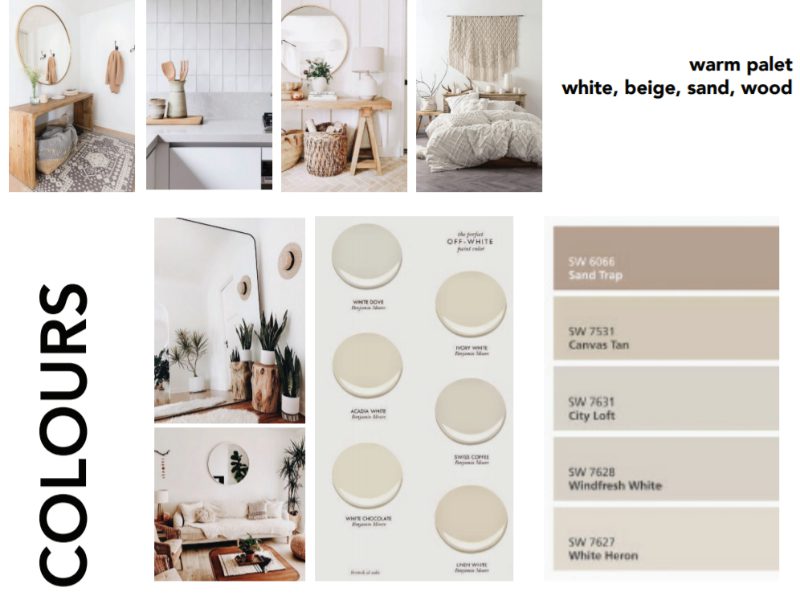 SCROLL & SAVE
Did you know? People spend an average of 28 minutes on Instagram every day. Make the most of this time but saving while you scroll! Save the images that capture your attention to quickly discover your style – Instagram or Pinterest are great sources of endless inspo!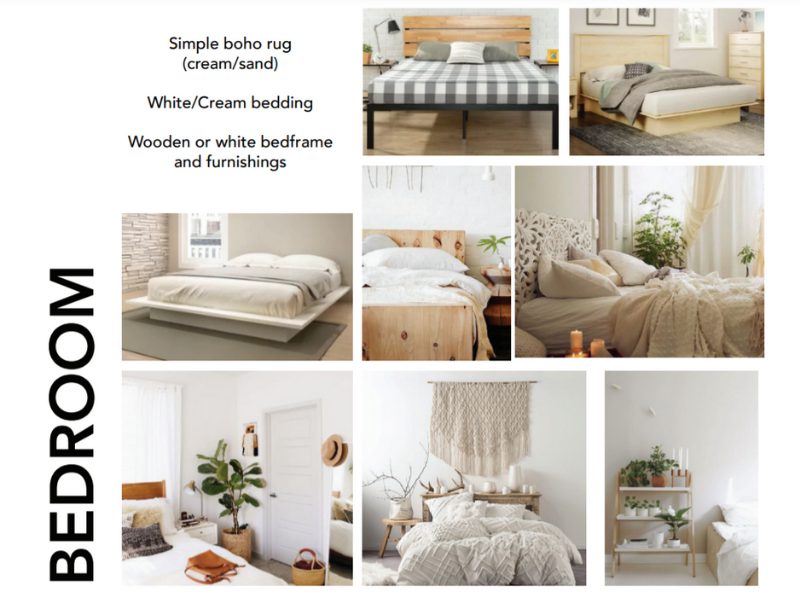 FUNCTION, FIRST
Arin created a home that works for her lifestyle by choosing an aesthetic that she loves and identifying what she needed from each room. Through this, she made design decisions that are beautiful and functional. To start, walk through your apartment from room-to-room and jot down what you use the space for most often – or how you would like the space to be used.
For example, Arin decided she needed a dining area that could transform into a home office to #WFH. Knowing this, she might have looked in both the table and desk sections at home decor shops to find something suitable.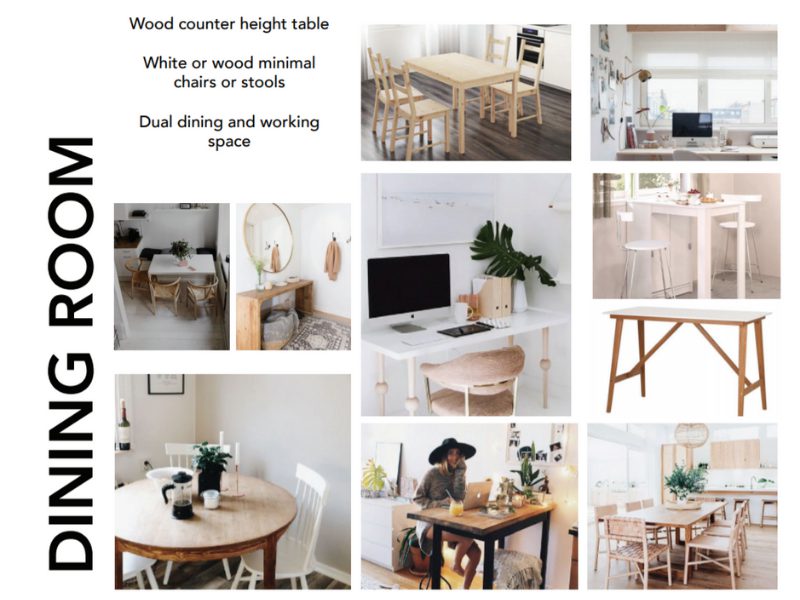 In the kitchen, Arin opted for natural materials and beautiful rose gold accents. As an avid baker, she was purposeful about the items she needed and found pieces that she knew would be used often.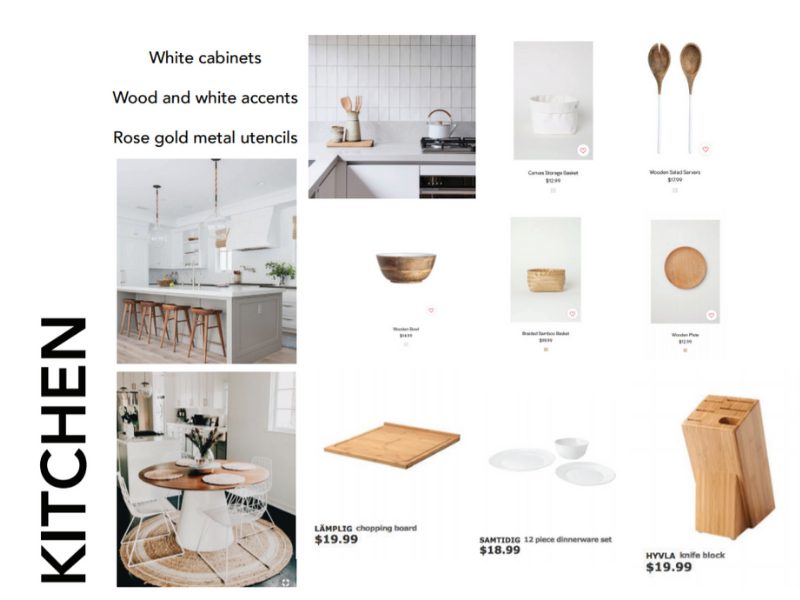 ALL TOGETHER NOW
Create each mood board in a Word document or on Pages by making a collage with the images you saved and the notes taken from each room to complete your mood board. Pro Tip: keeping the mood boards in one document makes for organized planning. Plus, it allows you to quickly see if the room décor looks cohesive and flows nicely.
Now – who's ready to shop!? Once you have your mood boards complete, bring them with you when purchasing your home decor (to IKEA, to the thrift store, wherever!) to ensure each item you buy looks consistent and connected.
???? – all mood board images supplied by Hollyburn resident, Arin.
Watch her apartment tour below! ????
Looking to make a move? Check out Hollyburn.com to view our rental homes in Vancouver, Toronto, Calgary, and Ottawa.