One of the perks of becoming a Hollyburn resident is the opportunity to win some great stuff! Don't forget to check back often for exciting promotions, contests and updates.
---
Past: #MyHollyburn Contest
Let's celebrate the lifestyle renting inspires with #MyHollyburn. Share how you've made your apartment home through creative décor, unique DIY, or imaginative storage hacks for your chance to win up to 3 months FREE RENT! Learn how you could be the face of Hollyburn!
---
Past: #WhyWeRent Instagram Contest
We want to know why you rent! The #WhyWeRent contest asked Canadian renters to share a photo on Instagram showing why they love renting for a chance to win 2 months FREE rent plus $5000 to The Birck and more! Learn more about the contest and the final winners.
---
Past: Hollyburn Hashtag Hunt
New look, new feel, same great apartments! In 2017 we launched our new website with the Hollyburn Hashtag Hunt—a month-long digital scavenger hunt contest with a chance to win one of four $1,500 prize packages!
Check out the winners, and see what contest participants learned about Hollyburn's community initiatives.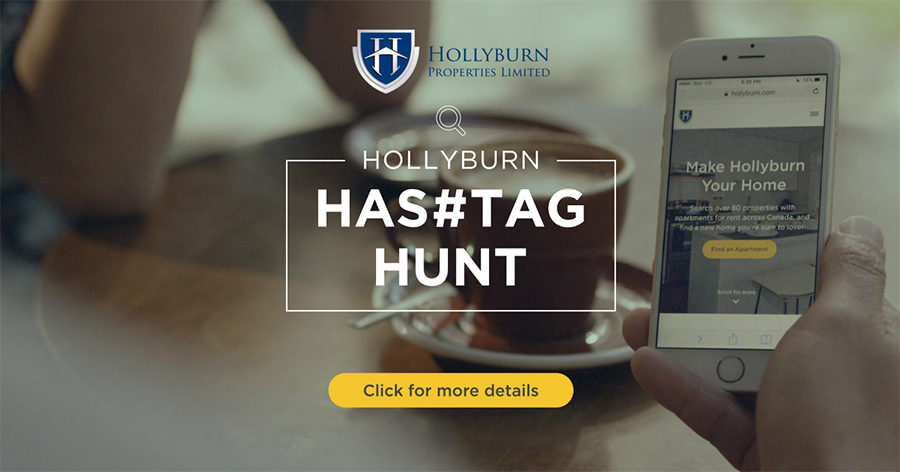 ---
Past: Hollyburn Free Rent Contest
The Hollyburn Free Rent Contest ran in 2015 to celebrate individuals in Canada who, like us, are dedicated to social impact through community involvement. The prize was free rent for an entire year in a Hollyburn apartment. Watch the contest video to see what we were looking for:
We touched base with Jan, the contest winner and community champion, to learn more about her life's work with the Yonge Street Mission. See how winning Hollyburn's Free Rent Contest has impacted her!
---
Past: Hollyburn Dream Vacation Contest
To celebrate our 40th anniversary, we wanted to give our valued residents the chance to win a 7-day, all-inclusive, Dream Vacation to Cancun, Mexico. To enter, we asked our residents to submit a video testimonial describing what they love about living with Hollyburn. Our team was overwhelmed with the amount of time, effort and creativity that went into every video submission – we were blown away!
Watch the best clips from all of the submissions in this #Hollyburn40 Dream Vacation Contest montage: