Looking for a way to create a bedroom in your studio apartment? Check out Chloe's creative hack!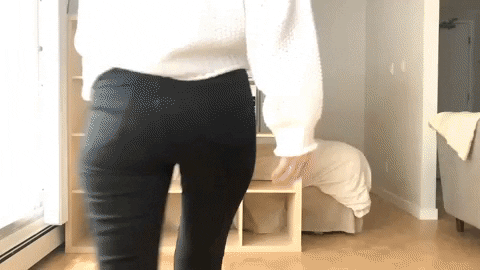 Chloe has used this divider to create the effect of a one-bedroom apartment within her studio:
"I purchased the Kallax unit from IKEA to act as a room divider. This shelving system was the perfect size to block the majority of my bed from guests' sight while still allowing the two areas to flow."
Love the look? Here are Chloe's best tips when you're recreating this at home!
Differentiate Your Décor
As Chloe explains, you can customize your shelving unit to block your bed from sight entirely or vary the décor within each shelf.
"Initially, I planned to fill each section of the shelf with a big white box to block off my bed from view, but it ended up looking clerical and boring. Instead, I picked up a few different sizes and styles of boxes to break up the unit and add some character."
Store your Stuff
The room divider also doubles as great storage for all the little knickknacks that can make your space feel messy. Having everything tucked away neatly will make your studio feel bigger and you feel organized!
"The boxes also double as great storage! Living in a studio, creating storage is so important! I tuck paperwork, art supplies, and miscellaneous items in there to keep out of eyeshot and keep me organized. I also love that the unit is right against my bed, so it acts as a bedside table. I'm able to keep my tea, glasses, and phone at arm's length!"
Add a POP of Colour
Once you've created a neutral backdrop with your storage boxes, take a page from Chloe's book and add in some fun pieces that complement the rest of your apartment.
"Although my apartment is pretty monochromic, I added some books, plants, and decorations to add some life and colour to the unit. I wish I could take credit for all my plants' health and well-being, but given this area of my apartment is in the shade, I had to cheat, and some of the plants are artificial."
Mix It Up
Chloe keeps her space feeling fun and fresh by switching up the design of her shelf divider décor. Though the shelving unit is an investment piece, the boxes, decorative figures, and plants can be exchanged easily and inexpensively.
"My shelving unit has evolved quite a bit over the last few years with new pieces being added or boxes swapped around. It's nice to mix it up, I just have to make sure every item on the shelf looked good from both sides, so I played around with the placement".
If the IKEA Kallax unit doesn't suit your space, but you love this idea, there are tons of similar products available! Check out this funky stair style bookcase from Wayfair, or this tiered laquered bookcase from Structube to achieve the same effect.
If you use Chloe's tips to hack your apartment, we would love to see it! Show off your room divider, and tag us using #MyHollyburn on Instagram, Twitter, or Facebook.
Looking for an apartment for rent? Sign up to receive project updates, new, and exclusive insights about our rentals.