Due to COVID-19 social distancing regulations, many of us are spending more time at home than ever before. This comes with a unique set of challenges – whether that's defining a work-life balance, homeschooling your children, or simply learning how to be so dangerously close to your fridge all day. But, it's important to remember that we are all in this together, and by taking steps to be a considerate neighbour, we can all get through this together, too. And maybe even brighten each other's days along the way.
Here are a few of Hollyburn's best tips on how to be a good neighbour
during COVID-19 (and always!)
Be Considerate
Elevators combine two big COVID risks – confined spaces and high-traffic touch points. Though Hollyburn Resident Managers are extremely vigilant with regularly disinfecting these spaces, it's still best to avoid pressing the buttons with your fingers if possible. Consider using a tissue to press the buttons, or even your elbow, and use hand sanitizer or wash your hands thoroughly afterwards.
Please do your best to limit users to the residents of one apartment at a time. This will help allow room for social distancing, and ensure that the building community stays safe for everyone.
Be Kind
Connecting and supporting one another is always important – especially now. There are tons of ways you can "meet" your neighbours without ever coming face to face!
For example, offer to help if you are able. Whether you can provide emotional support through a phone call or FaceTime, or pick up some essential items at the grocery store for high-risk residents in your building – reaching out to see if anyone in your community needs you can truly change someone's life. Some residents have already extended a helpful hand in our buildings! See more on our Community over COVID blog.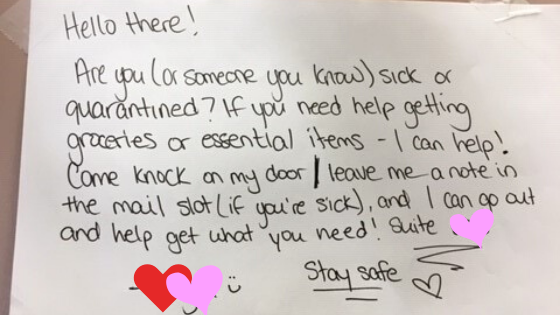 Be Respectful
Music can bring light to a dark day, and now is a great time to discover new artists or take comfort in old favorites! While you build and refine your playlists, please be respectful and keep the volume down for your neighbours, especially after 10pm.
Here are some solutions:
Throw on a pair of headphones, carry a mini portable speaker around with you, or even turn down the bass on your computer speakers to prevent the noise from reverberating through the walls.
Be Mindful
As we all stay home and do our best to practice social distancing, noise in rental apartment buildings is at an all time high. During this difficult time, we need to learn to live together and be mindful of the noise we make.
Here are a few quick and easy ways to minimize the noise coming from your rental apartment:
Put some space between you: This can be achieved as simply as reaching out to your downstairs neighbour. Slip a note under their door asking them where they usually spend their time during the day. If they work from the living room, set your kids up in the bedroom on the other side of the apartment and work together to accommodate each other.
Keep your doors closed: Closing internal doors such as to bedrooms, dens and bathrooms, can help keep noise contained and minimize transfer from room-to-room.
Pad your floors: Especially if you have young children playing, lay down rugs, towels, or blankets in their play area to help absorb sound and reduce echoes.
Replace toys: Avoid noisy toys such as heavy blocks and loud rattles in favour of plushy stuffed animals, board games, or books.
Be Aware
Apartment fires, such as this recent one in Marpole, Vancouver are on the rise since self-isolation began. Whether it's from candles or maybe the new baking craze, this dangerous trend could have very serious implications for entire buildings.
Here are some tips to ensure the building remains safe for all:
Mist > Smoke: Scents can trigger positive memories and lift moods. However, instead of using candles to achieve this in your apartment, try a diffuser instead! Diffusers combine cold water and essential oils for a pleasant aroma without creating a fire hazard. Bonus: with hundreds of different oils to choose from, you can switch up the scents in seconds from fresh, bright, fruity, flowery, earthy, or anything in between!
Don't drink & burn: While virtual happy hour is fun – alcohol is very flammable and slows reflexes, both of which are qualities that don't mix well with fire. Play it safe and blow out candles, turn off the stove and make sure your oven is not on before you pour yourself a drink.
Set a timer: Go check right now and make sure your bread isn't burning! Okay, phew! If you're one of the many people testing your skills in the kitchen during quarantine, do your baking (and your building) a favor and remember to always set timers for your food!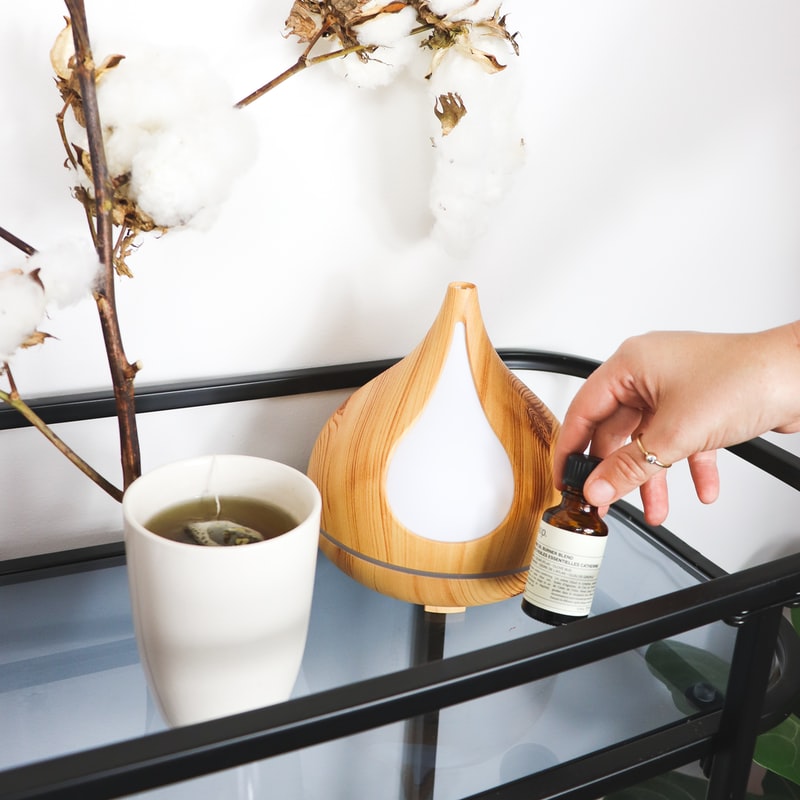 Above everything else, be compassionate and considerate of the feelings of those around you. In the end, we will come out stronger than before.
To learn more about what Hollyburn is doing and how you can help, click here.