Don is an expert at bringing art into his home in new and unexpected ways. He has managed to turn everyday items into beautiful displays that fit with the theme of his studio apartment design.
Alligator Clip
Photo Hangings
One simple way to add interest to a blank wall is with this quick and easy alligator clip DIY project. With just three everyday items, you can transform your entryway into a fun, welcoming space that wow's your guests! All you need is 1) a book with images you love 2) some thin nails, and 3) alligator clips. First, you need to choose a book that you don't mind ripping the pages out of, and that is full of pictures that go with the aesthetic of your apartment.
Coffee table books are ideal for this DIY – find one with full-page images or bold text to add a cool touch to your apartment. You can also invest in books with pages that are designed to be removed and displayed, such as SHARE, like Don did!
Once you've selected your book, choose your favourite pictures, carefully remove them, and center a clip on each page. Tap very thin nails into the wall (or use command hooks to avoid patching holes at the end of your lease!) and simply hang the clips. Just like that, you're done and you've created a stylish entryway that sets the tone for the rest of your apartment.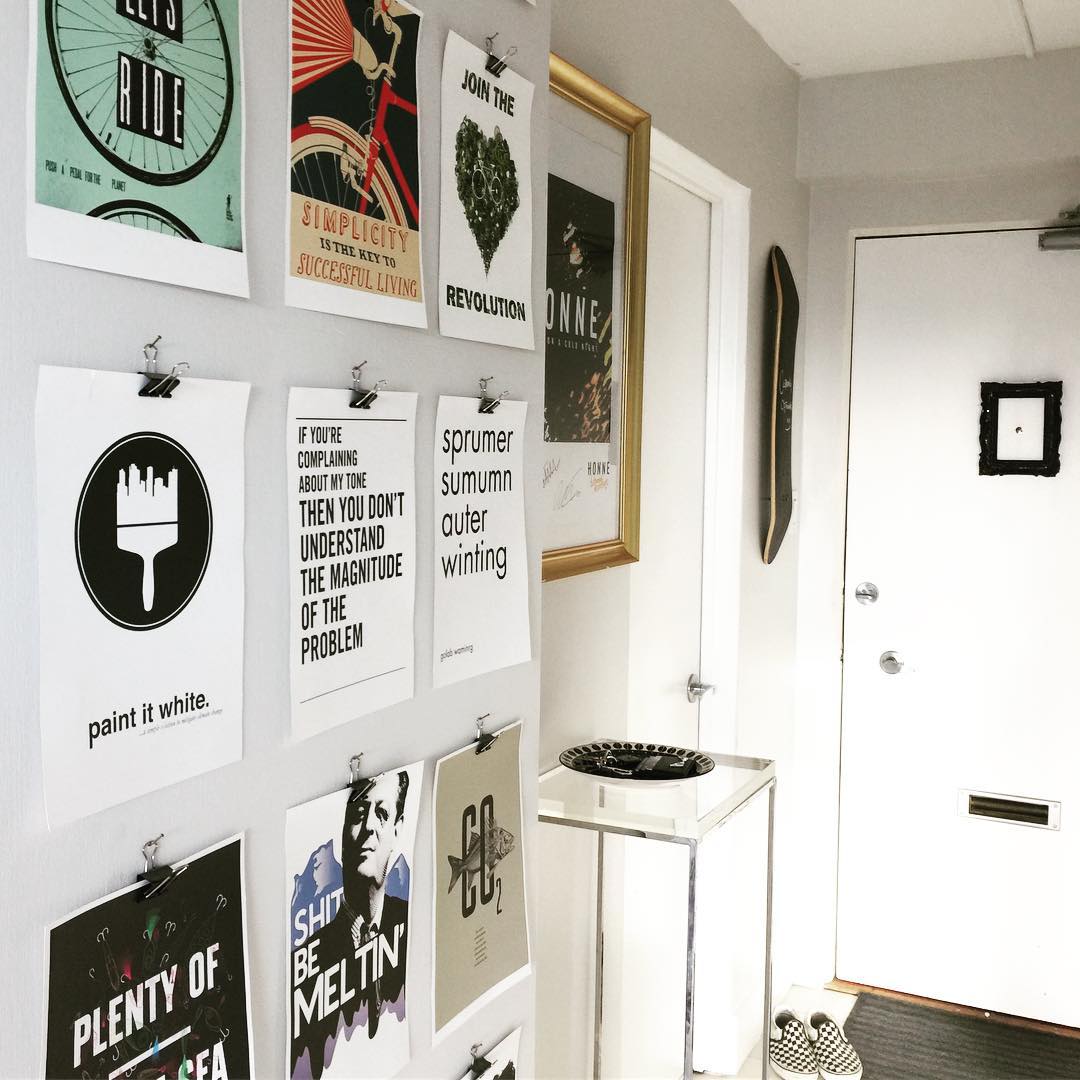 TIP: Make your apartment feel bigger by hanging your artwork vertically instead of horizontally. This will give the illusion of extra height by drawing the eye up, down, and around the space, maximizing the wall height.
Although book pages are an easy way to achieve this DIY, don't be afraid to get creative with it. Don finds inspiration in unexpected places, like his framed poster that started out as a carpet cover in his car!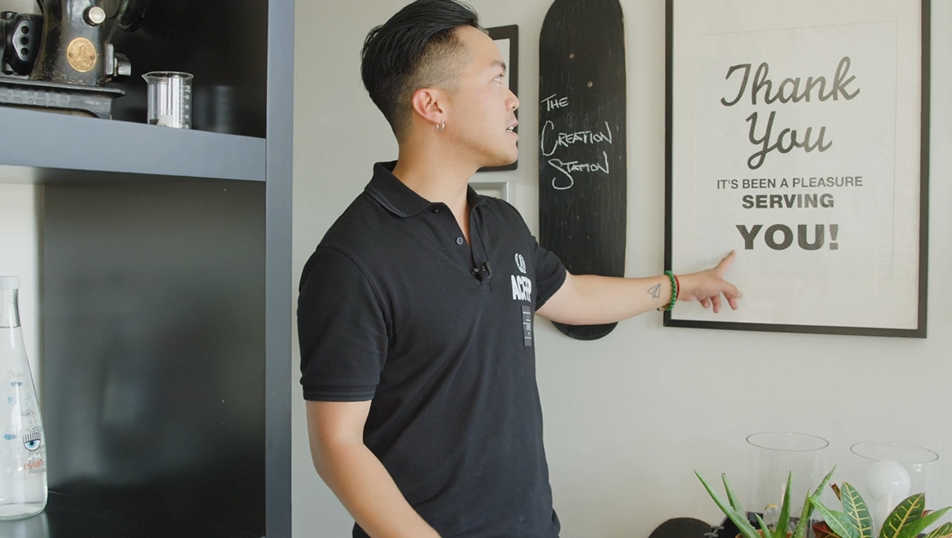 Skateboard ➝
Chalkboard
It's no surprise that Don loves to use items in unconventional ways, and his old skateboards are no exception. Since he stopped skating, he was looking for a way to give the boards a second life. He acheived this by removing the wheels and decks, and spraying them with a quick coat of chalkboard paint.
The skate deck and wheels should come off easily with the help of a Phillips head screwdriver.
Once you have your board, you can take a piece of sandpaper and smooth over the rough surface so the paint sticks smoothly and easily. Add your coat of chalkboard paint, let it dry and you're in business! This DIY is great for leaving little notes around your apartment, making grocery lists, or using as a canvas when inspiration sparks.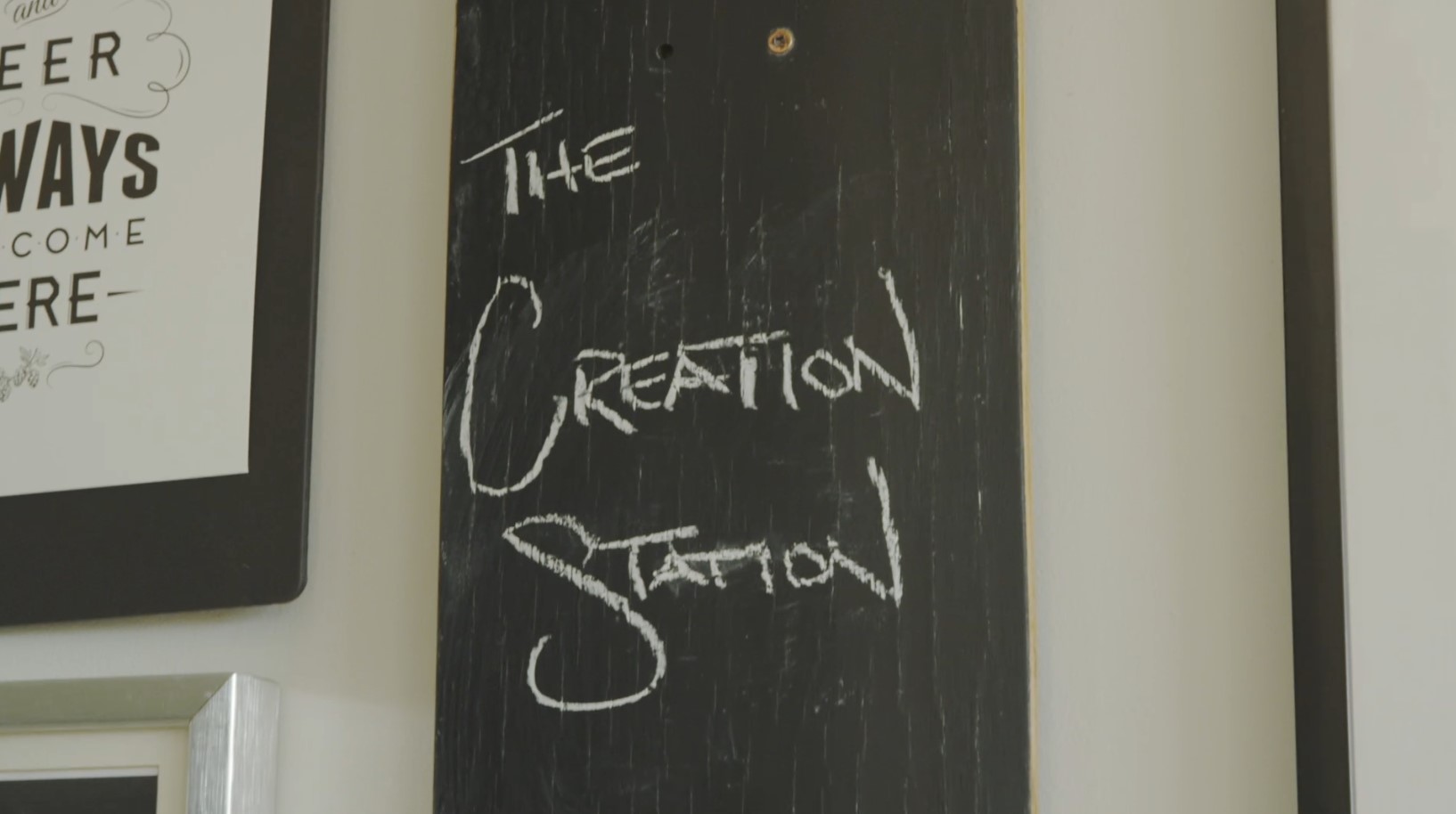 Ready to recreate this studio's modern look? Go forth and transform your rental apartment with some cool DIY art à la Don!
If you try these DIY's, we would love to see it! Show off your artwork and tag us using #MyHollyburn on Instagram, Twitter, or Facebook.