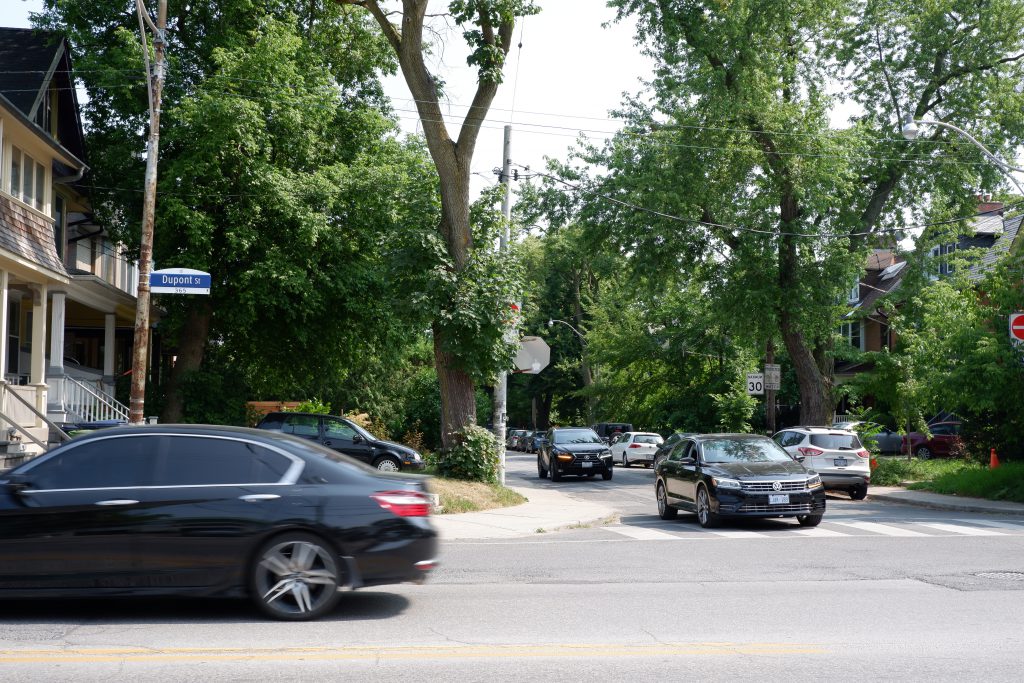 Head northwest of The Annex, a hub of Toronto apartment rentals, and you'll find an underrated stretch of great restaurants and food-focused shops on Dupont around Bathurst to Spadina. The local Business Improvement Area has dubbed it "Dupont by the Castle," inspired by Casa Loma which is just north of the neighbourhood. It's a popular spot for good eats and some cultural gems too.
Here are a few to check out next time you're in the area!
Creeds Coffee Bar
Coffee and dry cleaning may sound like an unusual mix but this is how a Dupont Street café has made a name for itself. It puts high-end dry cleaning (think wedding dresses and designer handbags) in a caffeine-fueled setting to create the perfect spot for laptop lovers and entrepreneurs. You'll find locals here dropping off their designer suits and grabbing a latte on their way out the door, as well as long-time friends casually catching up over coffee and treats. The interior is bright, open and larger than your average café. A counter in the back serves as the drop-off and pick-up point for dry cleaning. Baked goods, salads and sandwiches round out the food offerings at Creeds while a small boutique of coffee accessories and local giftware (candles, jams and crafts) complete the scene.
Anthony Rose's dining empire
Toronto-famous chef and restaurateur Anthony Rose can be credited for putting Dupont on the map as a dining destination when he opened his diner, Rose and Sons, here in 2012. His dining empire has since spawned six different outlets along Dupont Street. Schmaltz Appetizing is the most casual of the lot (there's no formal seating area inside although guests can use an outdoor space connected to the Fat Pasha patio). We love to stop here for lox and cream cheese on fresh bagels! Fet Zun is the newest addition to Rose's empire and the tapas-style take on Middle Eastern food is bright and flavourful. The barbecue joint Big Crow has more of a backyard party vibe while creative Middle Eastern dining can be found at Fat Pasha. Lastly, Madame Boeuf serves up burgers, hot dogs and fries in a fun outdoor dining area, along with slushie cocktails and ice cream sandwiches. Any of these spots along Dupont is a sure bet for a tasty meal and a must-try when in the neighbourhood!
Bespoke Butchers
Prefer to dine at home in your cozy rental apartment? No problem! A branch of one of the city's best butchers can be found on Dupont, too. Bespoke Butchers boasts that they're "beyond organic", keeping the welfare of the animal and sustainability top-of-mind while sourcing pasture-raised livestock from local farms. They're known for their house-made sausages that are perfect for throwing on the barbecue for a quick and delicious meal. Flavours range from standard (hot Italian) to creative (Thai curry) and they're made from heritage pork without any fillers. Prepared salads and sides, along with fresh cheeses and snacks are also on offer to round out your feast.
Whether you're looking for a quick cup of coffee, a nice dinner out or ingredients to put together a tasty meal at home, the Dupont Strip has you covered. And since it's only a 10 to 15 minute walk from Hollyburn's apartments for rent in Toronto's Annex neighbourhood, it's easy to make this unique neighbourhood your go-to spot for a food fix!
Looking for an apartment for rent? Sign up to receive project updates, news, and exclusive insights about our Toronto rentals.