The votes are in and it looks like Boho Chic is the style trend of 2019! Ariel's beautiful bohemian-inspired apartment features all of the rustic charm you didn't know you were missing.
Her apartment decor incorporates personal pieces from her mom, her sister, and her grandma. The result? A balanced space with the perfect combo of bohemian and modern style that Joanna Gains would be proud of! ????
Ariel's approach to designing her apartment was a little different. Unlike many renters who opt to slowly buy items specific for the unit, she chose to save up until she was able to afford to purchase all of her furniture at once, looking at it as more of an investment opportunity to collect beautiful, quality items that she can cherish for years to come. This helped to create a cohesive feel throughout the entire apartment and allowed her to really emphasize the bohemian theme she was going for.
Wondering how to recreate this look in your own home? Check out the products linked below to add some Boho Chic flair to your rental apartment decor!
Living Room (Part 1)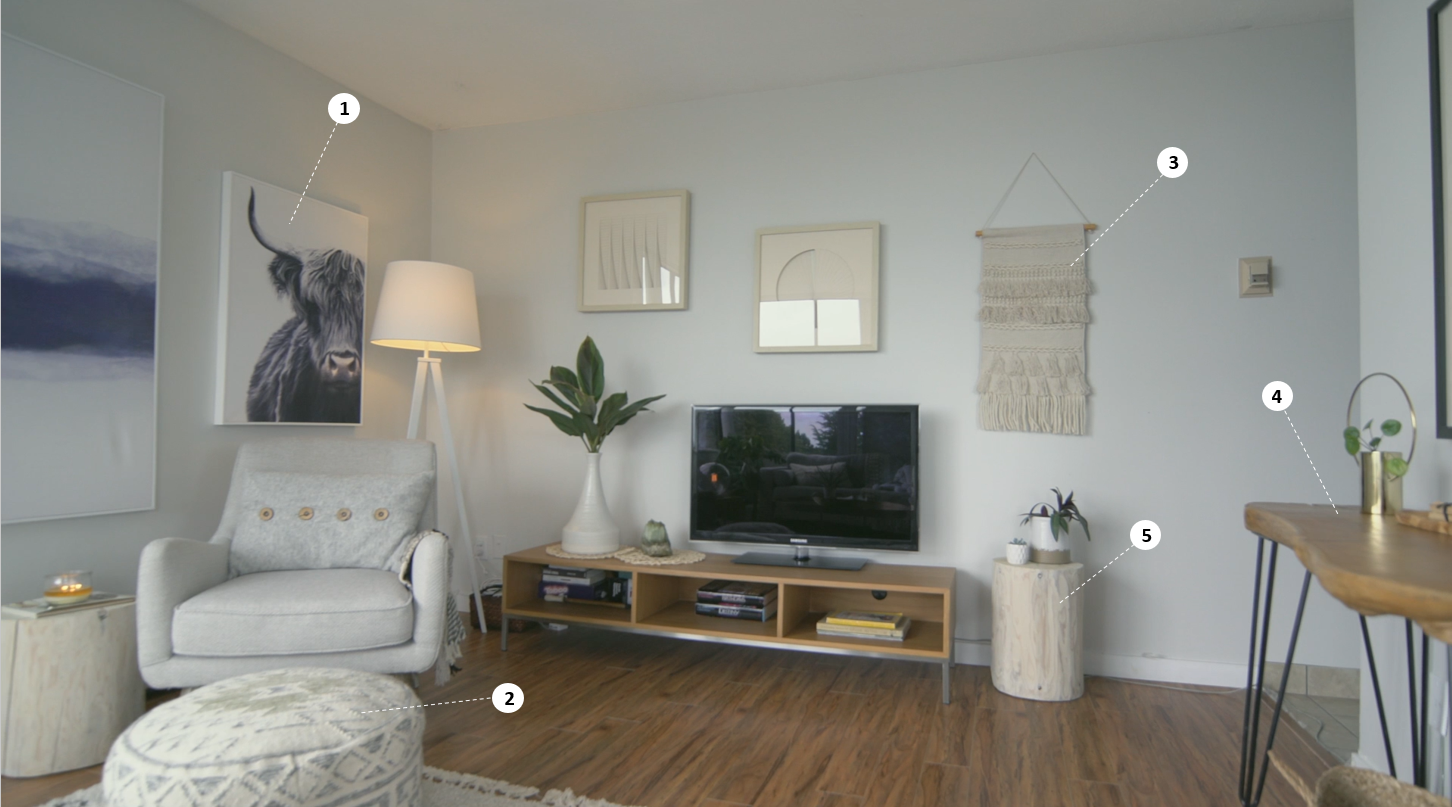 The living room is arguably the most important room in an apartment when decorating to align with a specific theme or style. This is the room that people typically spend the most time in, it's the first place your guests see, and it allows for the most design creativity.
1. The Yak Canvas in Ariel's apartment is a powerful first impression! As the first image seen after entering the space, it immediately sets the tone for the rest of the decor.
2. A Boho Pouf is a Boho Chic must-have! The mutli-purpose piece adds style but also functionality, too. Is it a footrest? Is it a seat? Perhaps sometimes it's even a table!
3. Macramé Wall Hanging is another essential component to complete the Boho Chic look. Luckily, these can be found at most local shops, markets, or even made by hand!
4. The Console Table with rod-iron legs and live-edge wood is rustic yet modern, adding visual appeal to what could easily have been left as a boring blank wall.
5. The bohemian style is all about natural materials, so using a stump as a table is an easy way to enhance to the design. Bonus: this is an easy DIY project for the budget-conscious boho!
Living Room (Part 2)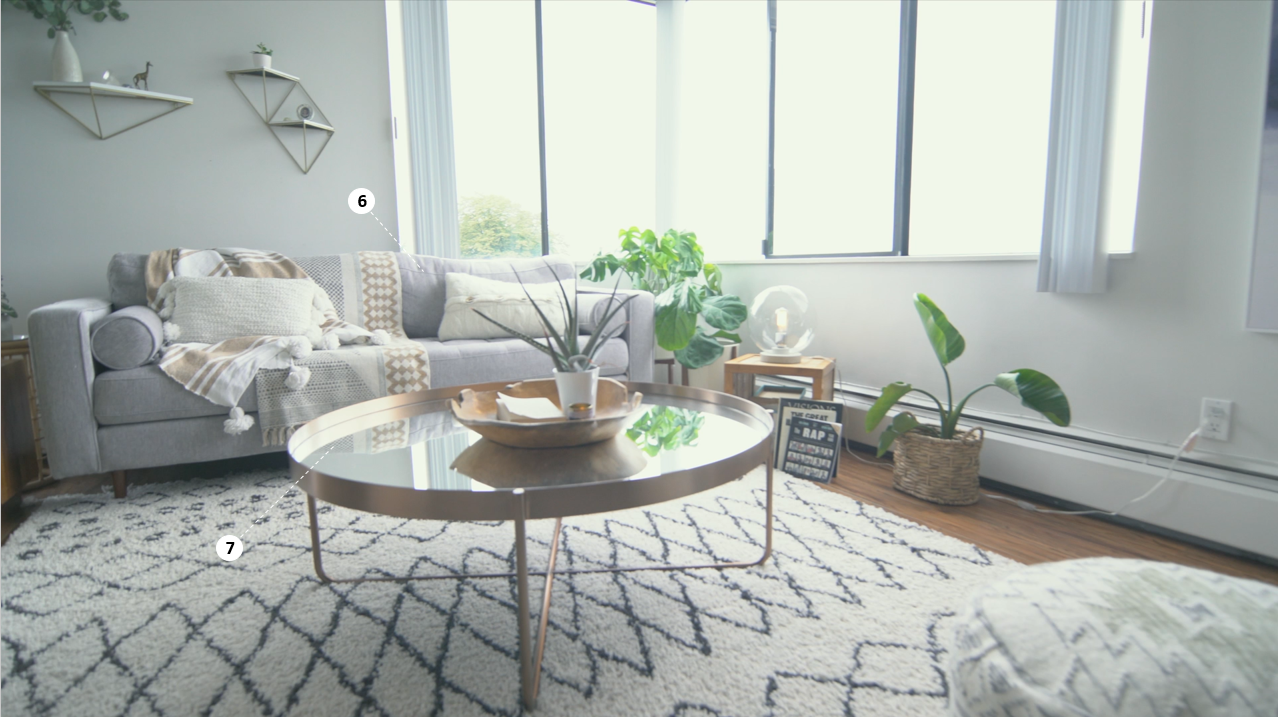 6. The sofa is one of the most important furniture items that can make or break a design style. It's usually one of the largest items as well, so neutral colours often work best. Remember, you can always jazz it up with throws and pillows!
7. At Ariel's apartment, the coffee table steals the show! This statement piece adds a touch of modern drama to the space.
Dining Room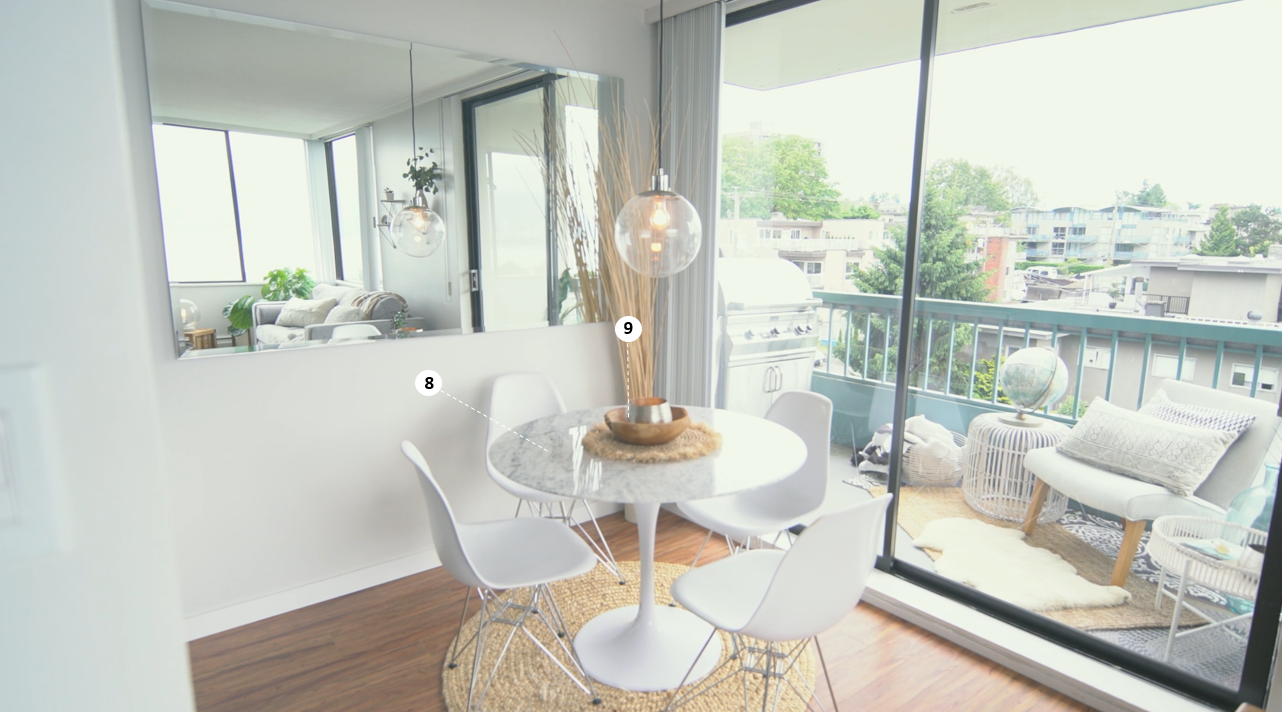 The dining room is usually visible from the living room, so make sure the design flows effortlessly from room-to-room for continuity.
8. When selecting a dining table, think function first. Ariel chose a round table that compliments the size of the room perfectly. And it's paired beautifully with a round rug to keep with the circular theme, too!
9. Simple, neutral, minimal. A center-piece as effortless as these teak bowls brings warmth from the natural wood without adding clutter.
Bedroom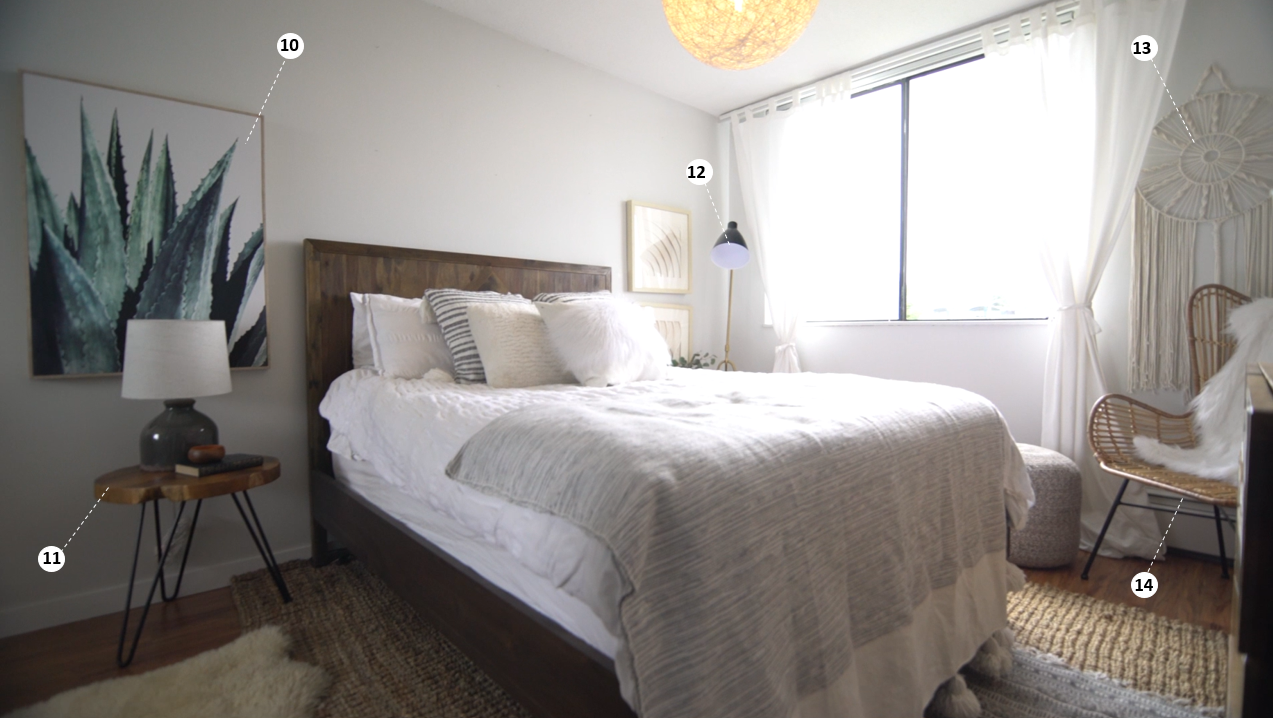 Did you know? The average person spends up to 36 YEARS in bed over their lifetime! So, even though the bedroom is usually reserved for your eyes only, it's equally important to give the space some lovin' too. Creating a safe haven where you feel calm, cozy, and peaceful is key.
10. Artwork can bring life to any space. Since the Boho Chic style is primarily neutral tones, the pop of green from this Cactus Canvas is a nice contrast.
11. Look familiar? The side table design is similar to the console table in the living room. Adding pieces throughout the space like this can create unity and enhance the flow of design.
12. When working with a small space like the bedroom, a floor lamp can work wonders! It's a great way to get extra lighting without taking up too much room.
13. If you're going boho, you better like Macramé Wall Hangings! This statement piece really completes the look in Ariel's bedroom.
14. It's no surprise that a chair in the bedroom gets used as a hamper more than a chair, and Ariel is the first to admit it! But this woven chair adds beauty, too!
Workin' on a Budget? Get the Décor Design Dupes Here!
The best part of the Boho Chic style is that it can be transformed with just a few statement pieces. So you can get the look, without breaking the bank.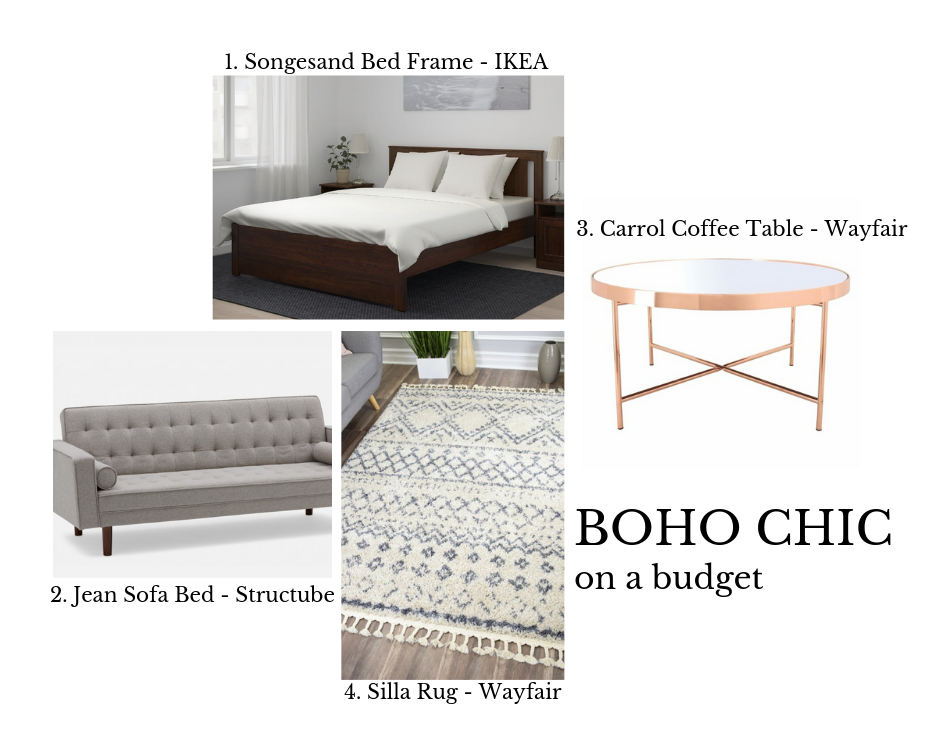 1. The IKEA Songesand bed frame is a great affordable option, at only $179. The dark wood of the bed frame compliments the whites and greens throughout the rest of the room.
2. You can't go wrong with the Jean tufted sofa-bed from Structube. Cute, multi functional, and a total deal at just $399.
3. Invest in a trendy statement piece with the Carrol coffee table from Wayfair. For $429.99, this table will have all your guests eyeing enviously!
4. Cushion your feet with the cozy Wayfair Silla rug. At $148.99, this rug will transform any space with the perfect bohemian touch.
BONUS TIP: To create a cohesive space it is all in the details. These finishing touches make Ariel's place look put together and well thought out.
If you shop Ariel's style, we would love to see it! Show off your Boho Chic decor by tagging us with #MyHollyburn on Instagram, Twitter or Facebook.
Happy decorating! ????
Looking for an apartment for rent? Sign up to receive project updates, news, and exclusive insights about our Vancouver rentals.