Living in the heart of your community can mean a compromise on space. However, apartment living can be made functional by adopting a purpose-driven mindset. And it's actually easier than you might think! These "Top 10 Small Apartment Storage Ideas" will help you unleash the hidden potential in your home, so you can maximize the space and make it match your needs. No compromises necessary!
1. Storage Bins to the Rescue!
Create extra space by adding storage bins, extra shelving, and closet organizers to keep your belongings neatand tidy.
In the Bathroom:
Over the toilet shelving units are a convenient, easy way to increase storage without loosing floor space or putting holes in the walls.
Portable drawers fit nicely in vanities that don't come with drawers or shelving to keep your make-up, hair accessories, and lotions organized.
Buy a 4-pack for $48 at Wal-Mart!
Over the door hooks are a quick renter friendly solution to limited bathroom storage.
Head to IKEA to pick this up for $5!
Keep your shampoos and loofas handy and reduce bathtub grime with this shower organizer for $13 at Wal-Mart.
Stickable toothbrush and soap holders save valuable counterspace! Hint: these work great on mirrors, too!
Find this neutral matching set at IKEA!
In the Kitchen:
Knife magnets & spice magnets keep your counters clear and reserved for meal prep!
Kitchen carts extend your counterspace and add precious storage!
Purchase at IKEA for under $70.
In the Bedroom:
Closest hanging shelves will be the best $10 you have ever spent! They're great for entryway closets, too and storing winter gear, hats, and bulky sweaters.
Storage bins under bed. This storage bin is flexible and on wheels for easy access! This is a great way to store off-season clothing and other items that aren't used on a daily basis.
2. Be Purposeful & Practical
Moving into a new home gives you the opportunity to start fresh. When deciding how to organize the items in your new rental, be mindful of their everyday use. For example, thoughtfully selecting which drawer in the kitchen will be used for cutlery can make your daily life more streamlined. Before putting everything away, take a minute to plan out what you need, what you use regularly, and how to arrange it in the most functional way – you won't regret it!
3. Versatility is Essential
Dual-purpose should be your favourite word when living in a small apartment! Try purchasing furniture that can double as extra storage, such as hollow ottomans, coffee tables with extra shelving, or beds with hidden components. These can be perfect spots for storing linens, towels, or travel gear.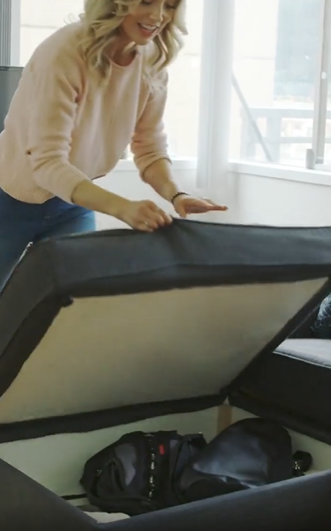 4. Expand Your Space – Make Use of Amenities
If your rental apartment building has amenity space – use it! This is here for you to enjoy. Social lounges can often act as an additional living room, office space, or entertainment hub for hosting friends and family. BONUS: You can usually book this space for private use with a small damage deposit, so you won't need to worry about being interrupted by your neighbours. Community gardens and courtyards can replace the need for a backyard, and fitness rooms can save you money on monthly memberships. NOTE: These types of amenities might be temporarily closed due to the situation with COVID-19.
5. Happiness Comes First
In the wise words of Marie Kondo – Does it bring you joy? Think of the packing process as a chance to shed what no longer serves you or makes you happy.
Here are some tips to get you started:
Get rid of old clothing you never wear anymore
Clear out those junk drawers
Donate old books you've already read
6. Organizing is Therapy
There are many helpful items that can maximize space and keep your apartment organized. This process can be really calming and positive, too. There is no better feeling than opening a drawer to find everything you need right at your fingertips! Try drawer organizers to keep everything tidy and clean.
7. Clear that Clutter!
While it may be hard, the first step is letting go. Sorting, de-cluttering, and donating unused items can feel like a huge metaphorical weight lifted.
Tip – start with three piles:
Garbage
Donate
Keep
8. A Home for Everything
Give your belongings a home! As Monica Geller knows, the phone pen stays by the phone!
9. Magic Mirrors
Mirrors are a small apartment's miracle worker! They can make the space feel bigger, brighter, and better. Plus, they can be beautiful home décor accents too.
10. Adopt a Minimalist Approach
Last, but certainly not least, is adopt a minimalist approach. The minimalist lifestyle is all about living with less and has been recently embraced by many looking to stretch their income and decrease financial responsibilities. Did you know that a minimalist lifestyle can also have incredible benefits on the environment and even your mental health? A simple tes to see if minimalism is for you is to try the 90/90 rule. This rule was developed by The Minimalists, Joshua Fields Millburn and Ryan Nicodemus and challenges you to think about the last time you used each of your possessions – if it wasn't in the last 90 days, then you likely won't use it in the next 90 days, and it's probably safe to get rid of.
Letting go is not so easy? Take baby steps, by packing these items away to see if you need/want/think about them over the next 3 months. If not – it's time to say bye-bye! Watch The Minimalist on Netflix for inspiration!