We all need to do our part to end bullying – in the home, at school, in the workplace, out in public and on the internet. The world can be a negative place sometimes, and it's up to each of us to spread love, understanding and acceptance of others – especially to those who appear to be different.
Pink Shirt Day is a global movement that began by two incredible high school students in Nova Scotia. They organized a school protest when a fellow peer was bullied for wearing a pink shirt. They protested the harassment by distributing pink t-shirts to all the boys in their school. This act of bravery and kindness has since evolved into a massive campaign to raise awareness of bullying and to encourage people to stand up against it.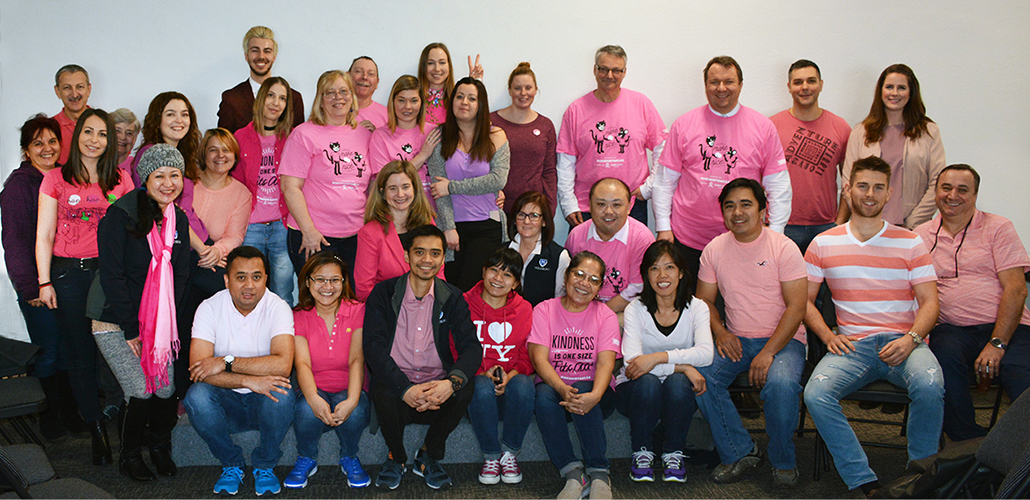 Hollyburn Properties has participated in Pink Shirt Day for the past three years. We encourage our team to wear pink, share photos, spread love, raise awareness and encourage tolerance. We have a zero-tolerance policy for discrimination, harassment and bullying and strive to maintain an environment that supports the dignity and self-esteem of our employees. These values transfer to our residents and into our apartment rental communities. We work hard to foster an inclusive and open environment where people of all ages, religions and orientations can feel safe, comfortable and cared for in their homes.
Net proceeds from the official Pink Shirt Day t-shirts, pins and buttons, as well as all donations, go to anti-bullying initiatives that directly help youth in need. Find out more about where donations go by clicking here.