At Hollyburn, our people are the heart of our communities. Throughout these challenging times, our on-site Resident Manager's commitment to maintaining the health of our communities is something we are constantly grateful for.
We want to celebrate the people on our frontlines, who are working diligently to keep our residents safe, everyday!

Q: How many years have you worked at Hollyburn?
A: This coming July is our 4 year anniversary with the company!
Q: What is your favourite part of working at Hollyburn?
A: Our favourite part of working at Hollyburn is that the company has a great growth program and we enjoy working as a team. It is a career that we absolutely love and continue to enjoy every day.
Q: What is your favourite activity to do during self-isolation?
A: Through these extraordinary times, it is a good reminder to be thankful for big or small things. We are privileged enough to stay home and have more quality time with our family. Staying in can be just as fun, and gives us the opportunity to learn new things while thinking creatively. Stay home, stay healthy, save lives!
Thank you, Amy and Ben!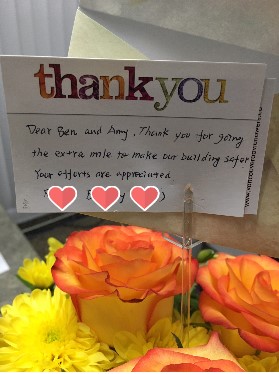 We love to see our Nicola Place residents appreciate Amy and Ben just as much as we do!
At Hollyburn, we are all here to offer our unwavering support and we hope our efforts can provide our residents with a little sense of peace, comfort, and security. We look forward to getting through this safely, together.
To learn more about what Hollyburn is doing and how you can help, click here.