Last night's 4.3 magnitude earthquake off the coast of Saanich was felt across most of Vancouver's Lower Mainland.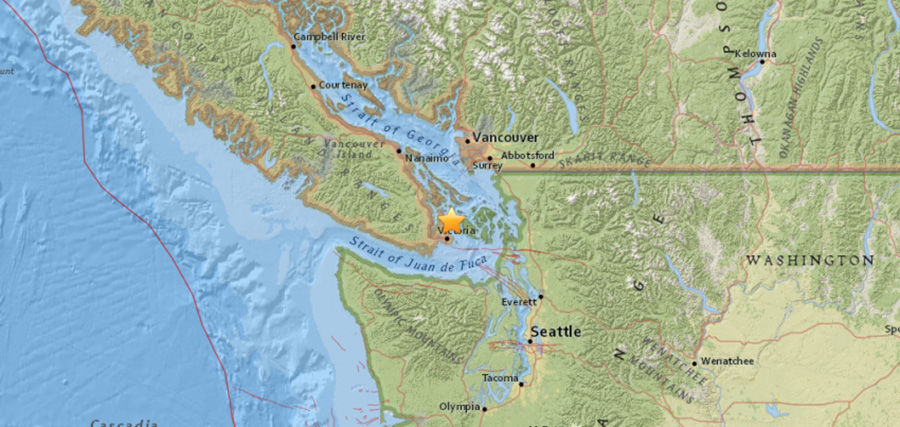 Just before midnight, the seismic activity shook, rattled and creaked homes and woke people from their sleep. While no significant damages, power outages, or injuries have been reported, the event is certainly a wake-up call for those living near the Juan the Fuca plate.
It is important to be prepared for an earthquake in Vancouver, for as we all know, "The Big One" is due for the fault line between Northern Vancouver Island and California.
What does Hollyburn Properties do for Emergency Preparedness?
Regular apartment building inspections to ensure that non-structural hazards are minimized or eliminated.
Administering and maintaining staff training for Emergency Response procedures.
An established Emergency Operations Centre – a central command located at the Head Office responsible for coordinating our response to a set group of Team Leaders.
The 5 "C's" Action Plan: Command – Control – Communication – Coordination – Containment.
Each rental apartment building is equipped with an Emergency Supply Box with the following items:
Axe
Battery operated AM/FM radio
Blankets, space or fabric
Crowbars
Flashlight
Fully-stocked First Aid kit
Garbage bags
Hammer
Hand saws
Hoses
Light sticks
Masking tape
Nylon rope
Pails
Picks
Plastic cups
Screw drivers
Shovels
String
Tarps
Toilet paper
Work gloves, boots and goggles
Wrenches


Each individual resident is also responsible for the safety, well-being and preparedness of themselves, their families and their pets. Here is a list of tips on what to do before, during and after an earthquake:
Have a family disaster plan. Designate a meeting place and methods of contact.
Secure heavy furniture.
Place breakable objects down low.
Acquire tenant's insurance – including Earthquake Coverage. Hollyburn partners with Coast Capital Insurance in B.C. and Alberta for an exclusive 30% discount for our residents. Please e-mail [email protected] or call 1.888.517.7171 for a quote today.
Have an emergency kit ready to go (near an exit door) with supplies to last for a minimum of 72 hours. Top 10 essentials:
Water (at least two litres of water/person/day)
Food (canned and dried)
Manual can opener
Crank or battery-powered flashlight (and extra batteries)
Crank or battery-powered radio (and extra batteries)
First aid kit
Extra keys to your car and house
Cash in smaller bills
A copy of your emergency plan and contact information
Prescription medication, infant formula, equipment for people with disabilities, or food, water and medication for your pets or service animal
For more advice on what to do during an earthquake and after, please visit the City of Vancouver's website.