Hollyburn has proudly partnered with Ensure Hive Future. They will install honeybee hives at a few of our apartment rental communities in Downtown Vancouver and on the North Shore.
Did You Know?
Bees are critical to nearly every aspect of the ecosystem and integral to food production. Approximately 1/3 of agricultural land requires bees for pollination. But bees are under threat from pesticides and unsustainable agricultural practices.
After learning this, Hollyburn felt a responsibility to help. We're using our 3,000+ rental apartments in Vancouver as a source for good.
About Ensure Hive Future
Ensure Hive Future is a Federally Incorporated not-for-profit dedicated to apiary research and education. One of their goals is to see local production of disease-resistant honeybees and remove our dependence on imported honeybees. They do this through community outreach, education, and research – using science to save the bees.
About the Hollyburn Properties X Ensure Hive Future Partnership
Ensure Hive Future will maintain honeybee hives on Hollyburn apartment buildings in Downtown Vancouver, West Vancouver, and North Vancouver. These hives are located on the roof of each apartment building to ensure they do not disturb our residents and to protect them from wildlife.
This partnership is different from other urban beekeeping programs for 2 reasons:
Ensure Hive Future does not use imported honeybees within their colonies. This contributes to the sustainability of local, native honeybees and helps create mite-resistant bees for better chance of natural survival.
Both Hollyburn and Ensure Hive Future want this to be community-inclusive. We know that the program's success, and the bee's health and happiness, will improve if we are all participating and learning together!
Urban cities – A.K.A concrete jungles – can create an uninhabitable environment for bees due to a lack of pollinator-friendly foliage. Therefore, one of the easiest ways a city apartment dweller can contribute to saving the bees is to plant bee-friendly flowers on your apartment balcony. But, which are the best?
What to Look for When Selecting Seeds:
Plants that produce flowers with plentiful nectar and pollen
Plants that attract hummingbirds and butterflies (as these usually also attract bees!)
Most edible plants are bee-friendly
Here are 5 Easy Bee-Friendly Plants for Your Apartment Balcony (even if you don't have a green thumb!):
Lavender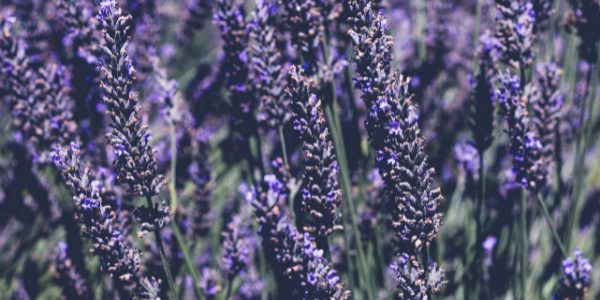 All types of lavender are fragrant and feature both nectar and pollen. Lavender blooms in midsummer, feeding the bees when they are at their hungriest. BONUS: Cut some for yourself as nice summer apartment decor!
Black-Eyed Susan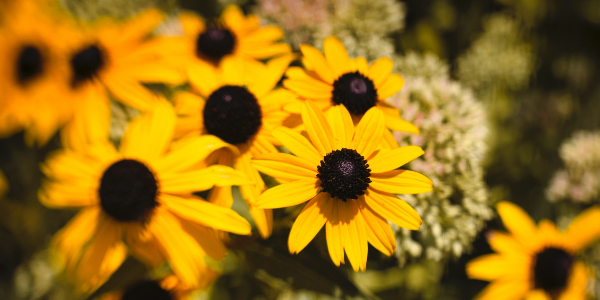 These cheerful flowers will make your apartment balcony come alive with their vibrant yellow pedals. This is one of the reasons honeybees are attracted to them too! Better yet, they're a perennial and will keep coming back year after year.
Chives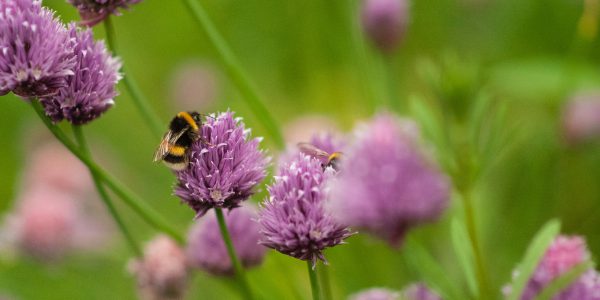 This dual-purpose plant provides food for you and the bees! Plus, they flower early in the season to offer some of the first nectar for bees coming out of their winter dormancy.
Salvia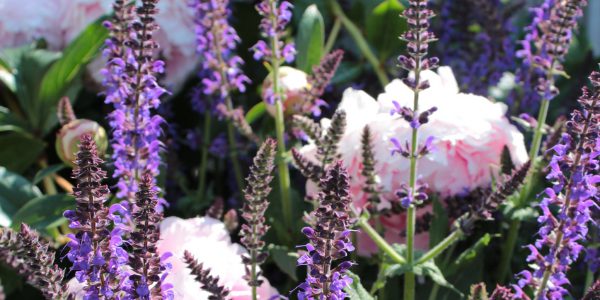 A varied and versatile flower, Salvia will have a type that works for you, whether your rental apartment faces North, East, South, or West. And they come in many different colours, such as purple, red, and blue!
Lemon Bergamot

This late-blooming plant won't flower until late summer and offers bees a yummy snack when there's limited choice. Also known as "Bee Balm" it's no surprise it made this list!
For a more extensive list of bee-friendly plants, click here.
Keys to Pollinator Plant Success:
When considering planting bee-friendly flowers on your apartment balcony, take the amount of direct and indirect sunlight into account.
Planting many different bee-friendly flowers will help your garden provide bee nutrients from the beginning, middle, and end of the season. Giving you endless "bee watching" opportunities as they keep coming back for more!
If you have space on your apartment balcony, plant flowers in clusters of species. It will attract more bees than if they were planted individually.
If you plant bee-friendly flowers on your apartment balcony, be sure to share with us using #MyHollyburnBees on Instagram.
Here's a sneak peek of the Hollyburn hives!