The Lonsdale is North Vancouver's newest purpose-built rental development by Hollyburn Properties located at 13th St & Lonsdale Ave. The good news? You can still move-in this summer!
As a leading rental housing provider in Canada, Hollyburn takes safety seriously – now and always. As a result, our Emergency Plan allowed us to quickly modify our policies and procedures to keep renting safe, easy and convenient during COVID-19 – and The Lonsdale is no exception!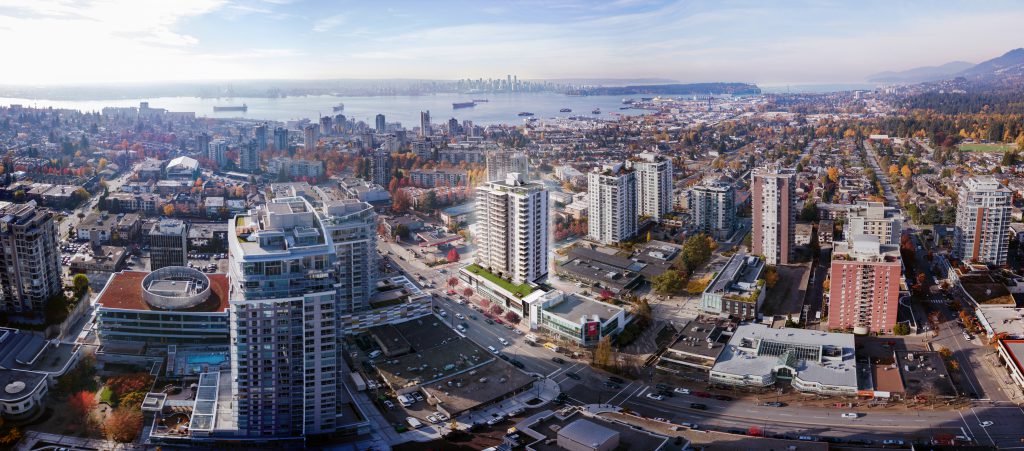 Here's how we're making renting safe at The Lonsdale. So, you can move with peace-of-mind.
You're in Good (Clean) Hands
The Lonsdale is a brand-new building. This comes with many benefits, such as sparkling stainless-steel appliances, pristine vinyl plank flooring, and that "new building" smell of fresh paint and drywall. But the most noteworthy benefit right now is the reduced risk of infection that comes with living in new construction – it feels GOOD knowing no one has ever lived in the suite prior to you! As an added precaution, each rental apartment at The Lonsdale will be meticulously cleaned prior to move in as well. On top of that, our enhanced company-wide Cleaning Protocol uses Health Canada approved disinfectants and focuses on high-traffic touchpoints, including doorknobs, railings, and elevator/intercom buttons. This Cleaning Protocol requires our on-site teams to disinfect these areas at least twice per day, in accordance with the BC Centre for Disease Control. So, all you have to worry about is where to position your couch!
We're (Virtually) Here for You
Hollyburn developed a complete online leasing process from start-to-finish to ensure you and our teams remain safe and protected. You can fall in love with The Lonsdale safely through virtual tours, 360 floorplans, and updated photography. And while we're so excited to meet you, for now, our leasing team is available via FaceTime and Whatsapp. We're here to answer any questions and are now taking unit reservations – you can choose the view you want!
Social Distancing Rules!
Our Presentation Centre might look a little different than we had planned, but we're happy to share that the doors will still open! We look forward to booking private appointments starting June 1st. To do so safely, we will have extensive social distancing protocols in place and personal protective equipment will be provided and worn by all our staff. Also, vigorous before and after disinfecting will take place in-between appointments using disinfectant solutions previously approved for SARS and MERS to ensure health and safety remain at the forefront.
Make the Move – Safely
A specific Move-In Protocol has been developed to ensure new residents of The Lonsdale are protected. This includes:
Individual move-in timeslots
Advanced key-pick up and unit inspections
Dedicated elevator for move-ins only
Thorough disinfecting of all high-traffic touch points between each move
We've partnered with Jiffy Move to make the moving process as streamlined and safe as possible. Working together, our Health and Safety Specialist has approved Jiffy Move's COVID-19 Protocol to ensure it aligns with our standards of heath and safety. Ask our Leasing Team for discount details!
Community Over COVID
Our dedicated frontline teams have your back! We're here to make this move safe, easy and convenient so you can love living at The Lonsdale. We believe strong communities are how we will get through this safely, together. Book a virtual appointment to speak with a Lonsdale Leasing Team Member and reserve your apartment today!
What's more? Here are the Top 5 Reasons to Live at The Lonsdale:
Incredible mountain, ocean and city views from EVERY unit
Central North Van location within steps from all your everyday necessities (Starbucks downstairs and Whole Foods across the street!)
Beautiful West Coast inspired interiors
PRIVATE balcony or patio with every suite
Did you hear? We're PET-FRIENDLY*!
The Lonsdale is waiting to welcome you home.
*Restrictions apply