FOR IMMEDIATE RELEASE
Hollyburn Wins BBB Award for Community Excellence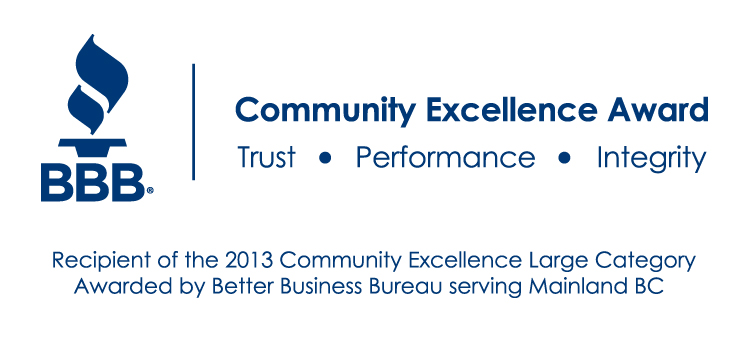 VANCOUVER, B.C. October 24th, 2013— Hollyburn Properties has won the 2013 Better Business Bureau Torch award for Community Excellence in British Columbia today. Supporting the community's disadvantaged and less fortunate—through a series of outreach programs, partnerships and charity sponsorships—has been part of Hollyburn Properties' mission for 40 years. As the largest owner-operator of rental properties in BC, Hollyburn likewise improves rental housing communities by renovating older buildings, optimizing environmental efficiency, contributing condo quality finishes and providing exceptional service, adding life and longevity to the province's rental stock.
"It is a true honour to be recognized for our community contributions by the Better Business Bureau of BC, an organization that holds businesses accountable to exceedingly high ethical practices," says Hollyburn general manager, Allan Wasel. The Torch Awards are the BBB's most celebrated event of the year and the Community Excellence Award specifically recognizes businesses that blend financial success with a strong commitment to positive community impact. Finalists were selected by a panel of judges independent of the BBB.
A Hollyburn property is much more than an apartment building—it is a community. The company's long-standing initiatives have ranged from sponsoring community gardens and the Healthy Living Program at local non-profit RainCity Housing, donating land and a $50,000 contribution to the North Vancouver Public Library and supporting the Special Olympics through Motionball to enthusiastic yearly participation in community events such as Vancouver Pride, West End Car Free Day and Khatsalano Day.
Long term partnerships with City School at King George Secondary and Covenant House International (11 years) are among Hollyburn's proudest community achievements. The Covenant House-Hollyburn Youth Housing Program, which donates four fully furnished suites to street-involved youth for a year, allows the youth to focus on finding gainful employment and improving their education in their transition to independent living.
The company has grown—into new cities across Canada, with a larger staff and greater resources—and so too has Hollyburn's commitment to actively contributing to its community. The growth has meant more time for employees to dedicate to supporting existing programs and to researching new ways of giving back. It has also meant the expansion of successful programs, such as the Covenant House-Hollyburn Youth Housing Program, on a national scale.
Hollyburn Properties, a Canadian family-owned and operated property management company since 1974, strives to actively pursue business practices that help revitalize neighbourhoods, create opportunities and strengthen and support community economic and social development.
###
Media Inquiries:
Katrina May
PR and Communications Coordinator
Hollyburn Properties Limited
604.662.7345 x152