VANCOUVER, B.C. – "Downsizing baby boomers want convenience. They want amenities nearby and they don't necessarily want to have to hop into their car to drive there," adds David Sander, director at Hollyburn Properties Ltd. in Vancouver.
His company received city approval to build a 144-unit rental building in North Vancouver, which has a microscopic 0.4 per cent rental vacancy rate in the Lower Mainland's still hot housing market.
"We anticipate that half our building will rent to people over age 50," he says.
Read the full article in the Globe and Mail by David Israelson here.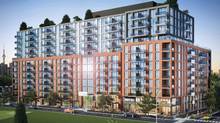 Chartwell's Sumach development in Toronto's Regent Park (Globe and Mail)