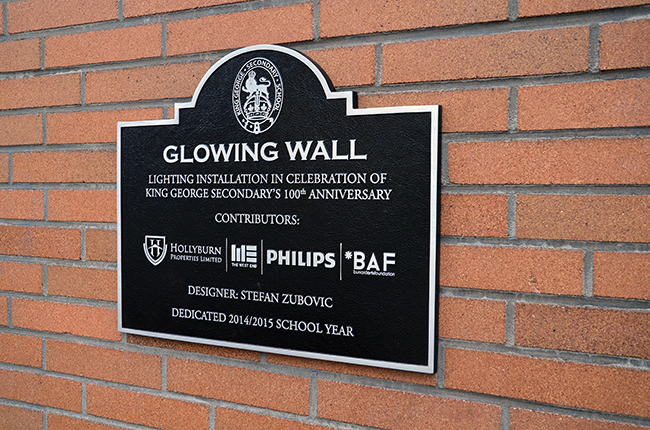 The Glowing Wall project, undertaken by King George Secondary alumni Stefan Zubovic to celebrate the school's 100th anniversary, is a dynamic lighting installation on the Denman Street side of the building consisting of 144 LED bulbs that can be programmed similar to the dome at BC Place. Among over 60 funding proposals, Hollyburn is one of 3 community stakeholders (also West End BIA, Burrard Arts Foundation) to step forward to cover the cost of the installation, materials and the plaque.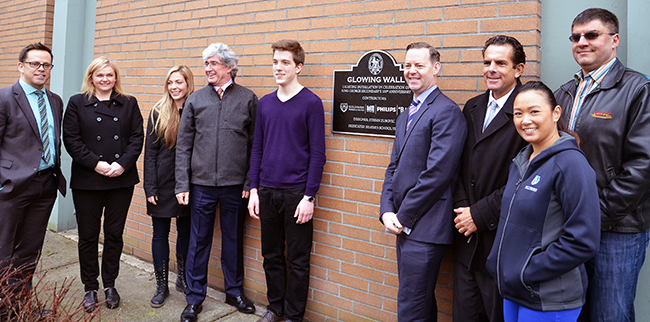 This project stood out to Hollyburn based on our long-standing partnership with King George Secondary through monthly support of City School – an alternative mini school within the West End institution. The Glowing Wall aligns with Hollyburn's commitment of strong community and family values and to creating vibrant and viable, sustainable rental communities. The true sustainability of compact urban living relies on many aspects of health, wellness, and community and environmental resiliency. The exciting Glowing Wall project furthers Hollyburn's commitment to fostering vibrant and interactive rental neighbourhoods that are rife with opportunities for sincere connections. An unveiling ceremony was held recently to reveal the stunning light display to the public and to celebrate the centennial of the secondary school.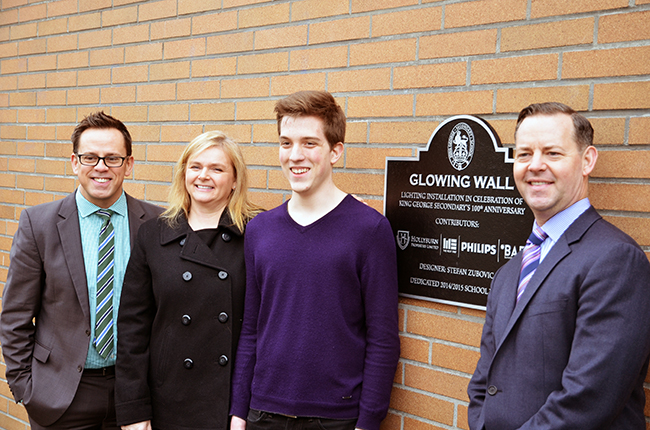 In 2013, Hollyburn was recognized by the Better Business Bureau by receiving the esteemed Torch Award for Community Excellence. Read more here.
Please scroll down to see more photos from the official unveiling event held on Thursday, February 26th in front of King George Secondary: