Winter blues? Got the travel bug? While planning your next trip or vacation, keep these tips on hand to make your travel experience hassle free!
Before you go…
Make a Plan – Where do you want to go, for how long, and what's your budget? Before you start searching, come up with a short list of ideas; this will help narrow down your search and stay within your timeline and budget. Consider these last minute trips and tour recommendations.
Check your Passport – Contrary to popular belief, your passport is NOT valid until it expires. Travelers often get turned away at the airport because their passport is too near the expiry date. For most countries, your passport needs to be a least 6 months from the expiry date to be valid for travel. Be sure to renew your passport with plenty of time before your next trip! Check out specific rules and regulations regarding travel documentation.
Pack Smart – Checking in at the airport with an overweight suitcase could cost extra money you didn't plan on spending. Choose pieces of clothing that offer mix and match options for the duration of your trip and leave enough room in your suitcase to bring back purchases and/or souvenirs. Watch this short video on packing like a pro!
Get Insurance – Whether you're travelling out of the country for a weekend or taking a trip around the globe, you want to ensure you're covered in case anything happens. Provincial insurance doesn't always cover you in the case of a medical emergency, so make sure you have traveller's medical insurance and be clear on what it covers before you depart.
During the flight…

Go Digital – Upload your favourite books, movies, and music to your device before your trip. Consider purchasing a portable charger in case you can't access an outlet on the plane.
Drink Water – Stay hydrated and pack your favourite snacks.
Get Comfortable – In addition to using a neck pillow and eye mask, wear some comfortable clothing/layers that can be adjusted based on the temperature of your destination.
Follow your Phone Plan – When you board the plane, put your phone on airplane mode. Know your phone and data plan before you go to avoid major roaming fee and data charges. Often phone providers have travel packages for talk and text that you can activate before you go to avoid extra charges.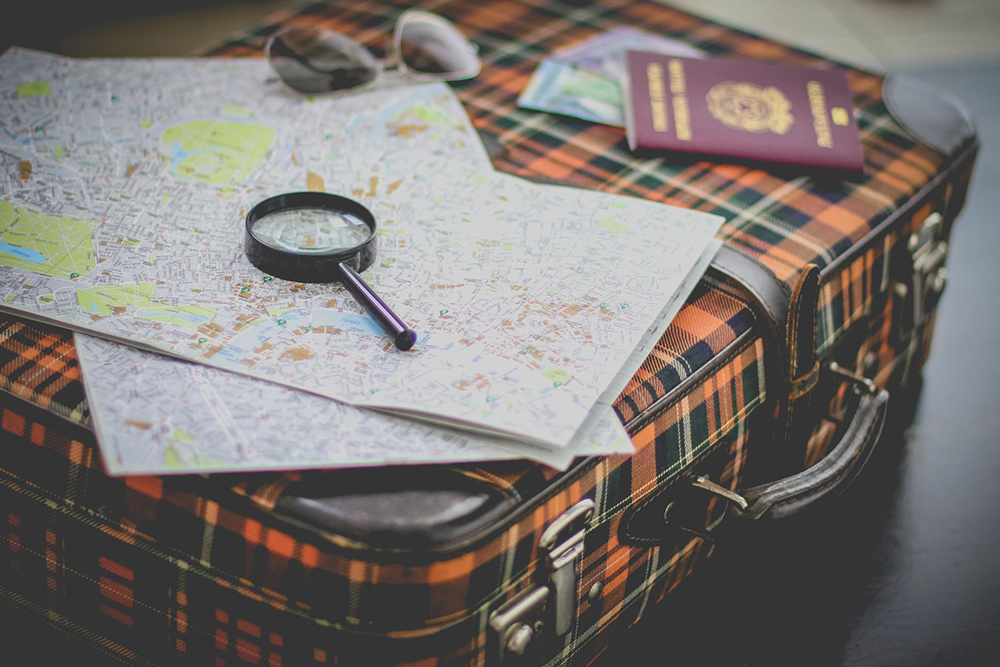 After Arriving…
Choose the Right Transportation – Instead of renting a car for multiple days, try to use public transit or cabs when taking short trips around your accommodations. When you need to make a longer journey, you can use Car2Go abroad the same as you do at home! (Hollyburn residents are also eligible for a discount when registering with Car2Go.)
Don't Overdo It – Don't try to do too much in one trip! You shouldn't come home from a trip feeling like you need a vacation from your vacation. If you're travelling with others or in a group, have a honest conversation about expectations, as everyone has a different idea of how they want to spend their time while travelling.
Find the Freebies – Keep your eyes open online and on the street for free activities/events taking place while you're there. Local tours, day trips, hiking/walking routes, and picnics in the park are also great ways to get a feel for the city while saving some cash.
Bookmark Resources – Instead of scouring information on Google, save your favourite travel blogs, Instagram posts, and Pinterest content so you can easily refer back to interesting sights and photo opportunities while your exploring.
Know Your Next Meal – Checking Yelp reviews is an easy way to find quality restaurants nearby, while little cafes, street vendors, and even grocery stores can offer some delicious snacks while you're travelling from place to place. Especially if you have any dietary restrictions, planning your dining options before you leave will save you time and energy!
Last but not least, enjoy yourself! Stay in the moment, taking in all the sights and sounds. Be willing to go with the flow, keeping yourself open to new experiences, opportunities and people!
Guest blog post by Flight Centre.
Take some of the stress out of planning your vacation and consult a travel agent. All Hollyburn residents are eligible for exclusive travel deals from Flight Centre.