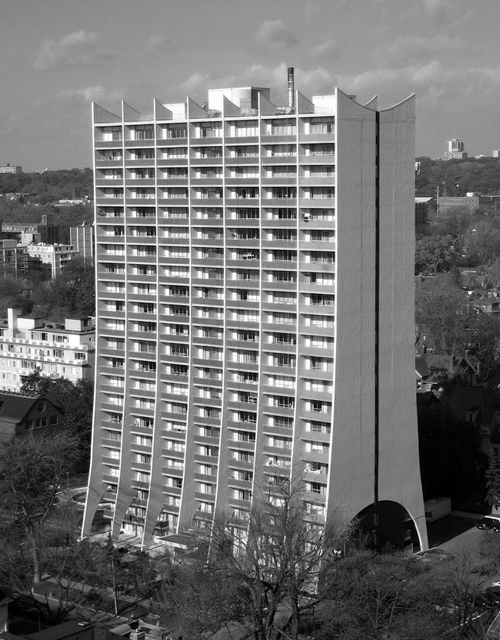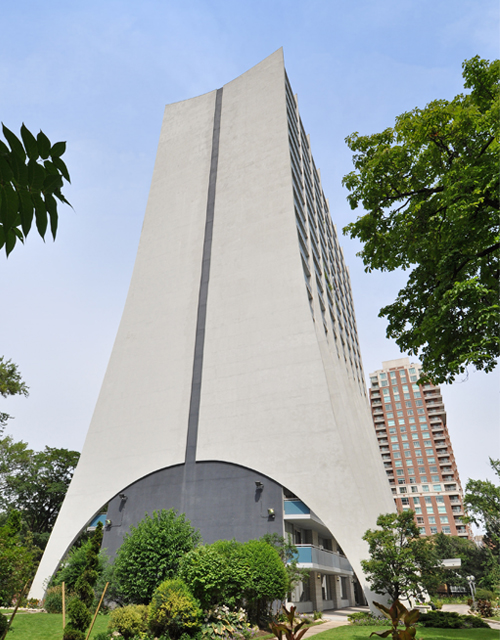 20 Prince Arthur, Toronto
The Building
Uno Prii, world renowned architect, made his mark on Toronto's skyline when 20 Prince Arthur was erected in 1968. Rising 22 stories, the elaborate apartment tower has become the "canonic Prii statement," its sweeping space-age form incorporating curvilinear sculptural elements and influences of futurism. [1] Soaring high into the sky, the base of the building curves into flared buttresses, much like a pair of bell-bottomed jeans. 20 Prince Arthur was one of Prii's most expressive designs, and his self professed "favourite" execution out of more than 250 buildings in Ontario, Ohio and Florida. [2]
The Renaissance
Hollyburn Properties acquired the building in 1999 and is proud to have restored it to its former glory as one of the premier addresses in Toronto. At Hollyburn, we take outdated and ordinary spaces and transform them into luxury, open concept, condo-quality rental apartments.
The interior of 20 Prince Arthur was carefully renovated to retain the timeless essence that Prii had created with his design, while introducing modern design elements to keep it current and inviting for all ages. The lobby is a notable focal point of the building and significant in setting the tone for each resident and guest who arrives through the front doors. Our goal was to create a common gathering space that's warm and inviting while maintaining a current and timeless aesthetic.
The Community
Just like the residents, the resident managers are the heart and soul of our buildings. Originally from Albania, Vjollca and Bardhyl have been caring for and managing 20 Prince Arthur for almost 10 years. Steps from the front doors, is the heart of Toronto's high-end shopping district, and one of the most upscale neighbourhoods in North America, akin to L.A.'s Rodeo Drive and New York's Fifth Avenue. Located in The Annex on the border of Yorkville, 20 Prince Arthur stands just off of Bloor and Avenue Road, a popular residential community that is home to many University of Toronto students, academics and artists. 20 Prince Arthur is set in a neighbourhood of pubs and galleries, shops and restaurants, punctuated by ethnic cuisine and cozy eateries where you'll find (arguably) the best sushi and Korean restaurants in Toronto. A thriving cultural scene, with several clubs, community centres and event venues means there is always something interesting going on.
[1] Alfred Holden, Concrete Toronto (Toronto: Coach House Books and E.R.A. Architects, 2007), 42.
[2] Holden, 229.