Today's guest blog post is brought to you by Stephen Irving, with the West End Business Improvement Association. Check out their blog here.

Last weekend saw the return of the Lumière Festival to the West End and the awesome folks at Hollyburn Properties were at the centre of the action by sponsoring the very popular horse and carriage ride around Alexandra Park.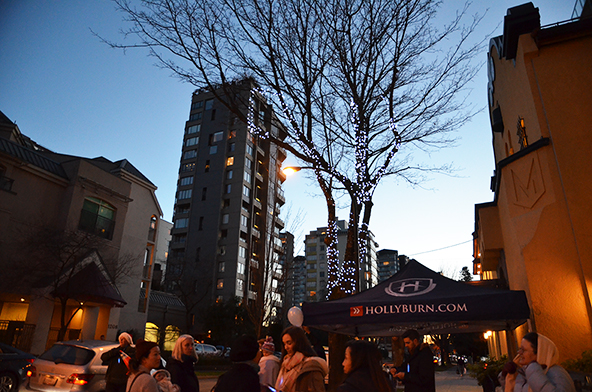 Since this is Hollyburn Properties' 40th anniversary, this West End-based company wanted to thank the community for all their support over the years. Hollyburn Properties provides rental housing to over 3,000 residents in 28 rental communities throughout the West End, more than any other community they represent in Canada.
"We love the concept of Lumiere festival because it helps to connect all of the different businesses and residents in the West End, and literally brings light and life into the streets during what can be a gloomy winter season. Even with hard rain people were out and about, riding on the horse-drawn carriage, and happily exploring all there is to be seen during this wonderful festival. We can't wait for next year!" – Katie Ham, Hollyburn Marketing Manager
In addition to their contribution to this year's Lumière Festival, Hollyburn Properties generously supports a number of community groups in the West End. Their Hollyburn Helps Fund assists students at King George Secondary School with transit passes and out of school events, and their partnership with Gordon Neighbourhood House has yielded the wonderful community garden at Crystal Court (1434 Burnaby Street) as well as an annual Holiday Lunch for senior's in the area. They're also big supporters of Car Free Day West End, Vancouver Pride and the Honda Celebration of Light.
Thanks again for your support, Hollyburn Properties! Here's to another 40 years in the West End.
Watch the video by Stanley Park Horse-Drawn Tours: