Hollyburn Properties wins 3 industry awards in 2017 for new website!
Hollyburn takes pride in the quality of rental apartments we provide, as well as the ease and convenience of our leasing process. We take ownership of the entire rental experience, which is why in 2016 we identified a need to redesign our website Hollyburn.com and give our users and residents the same quality experience online that they've come to know in person. We partnered with web developer Drive Digital and SEO manager 6S Marketing to rebuild our website from scratch.
The core concept of the website redesign was to respect the task-oriented nature of most of our users and empower their search for rental apartments with an intuitive and exhaustive set of tools. With such a low vacancy rate in most urban areas, we found that our users wanted to take control of their leasing experience in order to explore all the potential options available to them. At the same time, they wanted the ability to customize the search process to their
unique needs.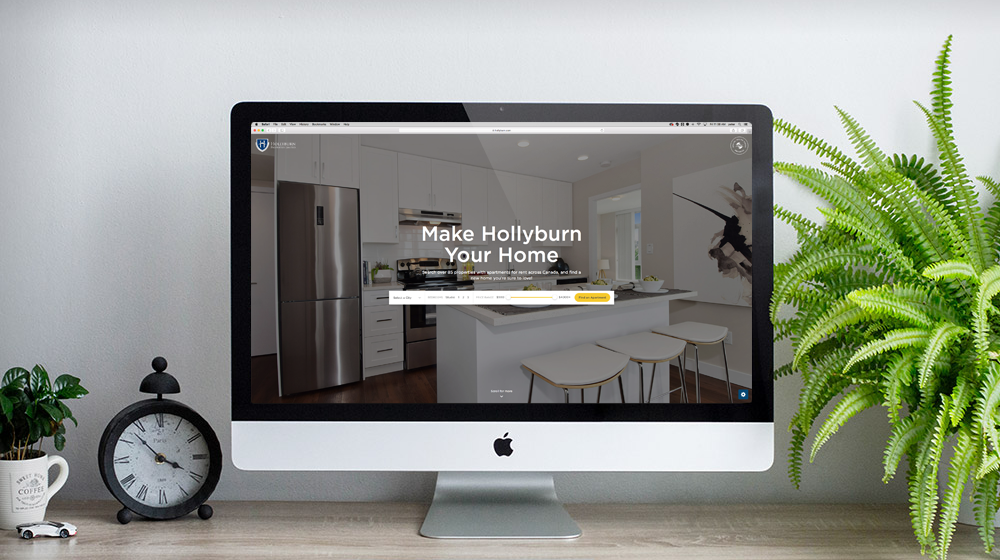 A few key features…
Map
Our Map Search tool displays live listing data in real time; as soon as a lease is signed on an apartment,
it is automatically removed from the map. Similarly, as soon as a notice is received and an asking rent is set, the suite automatically appears on the website.
Instant Vacancy Updates
A unique tool that greatly improves the search process of our users is the Instant Vacancy Updates subscription. Users can input their preferred suite types and neighbourhoods, and receive instant email updates whenever a new suite that matches their criteria becomes available. This saves the user a great deal of time and energy, since they no longer need to regularly check the website for new information—we bring only relevant listings right to the palm of their hand. And in cities with such low vacancy rates, these updates can help users who are in a rush to switch homes be the first to contact the manager and complete an application.
We designed the navigation of the website to reflect the priorities of the user, progressively providing more detailed information as they explored more deeply on our website. By doing this we ensured users weren't overwhelmed by content, while still providing them with the information they were seeking.